8mm – a sound piece by Chequerboard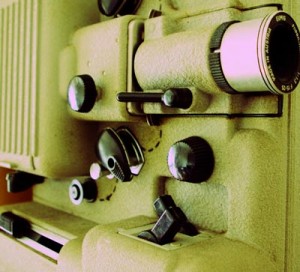 8mm is an audio installation by Chequerboard. The sound pieces produced are also available for download from our Super8shots.com site by clicking here.
"Existing as an antidote to the pristine digital camera of now with its infinite capabilities and functions, the Super 8 camera harks back to a simpler time when economy, patience and taking blind risks were all part of collecting footage.
What makes up the Super 8 aesthetic? First and foremost, the grainy delicate warmth of the footage, captivating to watch, somehow making instant poetry out of what it watches.
Secondly not to be forgotten are the many elements that play a side role.
The comforting purr of the 8mm projector, the snip of the splicing machine, the sounds from the cameras themselves. The clicking, whirring, loading, and filming, unique to each and every 8mm camera.
Its with this fact in mind that I've collected sounds from Julien's vast collection of Super 8 cameras and presented them as an audio installation. The aim to simply reflect on these sounds and the intrinsic and essential role they play in the super 8 experience."
John Lambert (aka Chequerboard)