Gareth Kennedy – Aran Lobster Pots Exhibition
Gareth Kennedy, new installation work to premier at Super8 Shots Árann Feíle on Inís Oírr, Aran Islands, July 2nd 2011 @1PM. Exhibition running until 31 July 2011.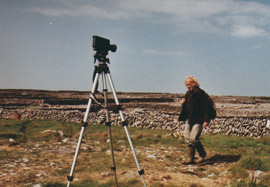 Last year acclaimed artist Vivienne Dick presented never seen before 8mm work at the Super8 Shots festival. This year the festival has commissioned another contemporary artist to create a work in the medium. Gareth Kennedy premiers a new work comprising of a custom built flatpack structure housing a super 8 film. This work was produced in April 2011 during a residency at Áras Éanna Arts Centre on the Aran Islands and will open the Super8 Shots Árann Feíle on the island on Saturday, July 2nd.
Kennedy's new work examines translations in material cultures across time and space. It charts a shopping trip to IKEA in Ballymun, Dublin and the purchase of an IKEA lampshade which was originally hand woven in rattan and bamboo in Vietnam for distribution internationally by the Swedish multinational. The lamp is then brought to Inís Oírr, the smallest of the Aran Islands off the west coast of Ireland. Subsequently it is unravelled and remodelled by Island Caoladoirí (basket weavers) into a lobster pot, which approximates a traditional/vernacular form. A further, more contemporary-looking pot is diligently fabricated out of other IKEA furniture. The two pots are then brought to sea and tested in the cold waters of the Atlantic by an Island fisherman.
Shot on super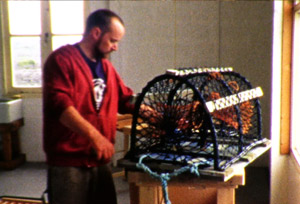 8,  the film stages this encounter between material cultures and presents a folk fiction which at once pays tribute to David and Sally Shaw Smith's seminal series of films Hands[†] whilst at the same time corrupting and cannibalising the blond, flatpacked order of IKEA's aesthetic. The work consciously uses the Super 8 medium to employ anachronism in a critical and self aware manner.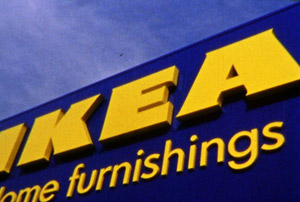 The film will be housed in a custom made flatpack back projection structure. Made out of birch plywood, Scandinavian pine and assembled using the ubiquitous IKEA allen key, this freestanding structure stands apart from the surrounding karst landscape of Inís Oírr.
This work was undertaken as part of an Artists residency at Áras Éanna Arts Centre on Inís Oírr. It was generously supported by a Project New Work Award from the Arts Council, and with further support from Super8 Ireland. With thanks to the community of Inís Oírr for their support in the production of this work. It will be on show until July 31st 2011.
Gareth Kennedy has received numerous awards such as an Arts Council Bursary (2010), and a LAMA Award for best Public Artwork commissioned by a local authority (2008). His practice to date includes public art work, educational projects, exhibitions, residencies and collaborations. He has produced and exhibited work both nationally and internationally. In 2009, he co-represented Ireland at the 53rd Venice Biennale. Kennedy also works on another distinct artistic practice called Kennedy Browne in collaboration with artist Sarah Browne.
For more see:     www.gkennedy.info www.super8shots.com
---
[†] Hands is a series of thirty-seven documentaries on Irish crafts for Irish television (RTÉ). Shot in the seventies and early eighties the films diligently capture the twilight years of traditional rural and urban craftsmanship in Ireland.